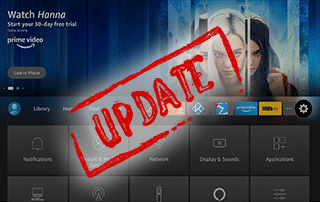 This step-by-step guide will show you How to Update Firestick/Fire TV to the latest software.
The Amazon Firestick is the most popular streaming device available today, and it's important to update this device for the best performance.
You can easily Update your Firestick or Fire TV within the System Settings of the device whenever an update is available.
While Firestick devices typically update themselves, sometimes we must do it manually.
Many Amazon Firestick/Fire TV users "jailbreak" the device to sideload 3rd party applications and a system update will help ensure these apps remain compatible and run smoothly.
Updating your Firestick/Fire TV is one of the best methods we can use to Stop Firestick Buffering.
If you are not a fan of the new Fire TV interface, you can always implement a launcher that will allow you to customize your home screen to your personal preference.
How To Update Firestick/Fire TV
Screenshot Guide
In the guide below, we will update Firestick using a Fire TV Stick Lite.
However, these instructions will also work for any variation of Firestick you have including Firestick 4K, Firestick 4K Max, and Fire TV Cube.
1. From the main menu, hover over the Settings icon and click My Fire TV.
2. Click About.
3. Select Check for Updates.
4. Click Install Update (if available).
5. Wait for a minute or two for your Firestick/Fire TV to finish software updates.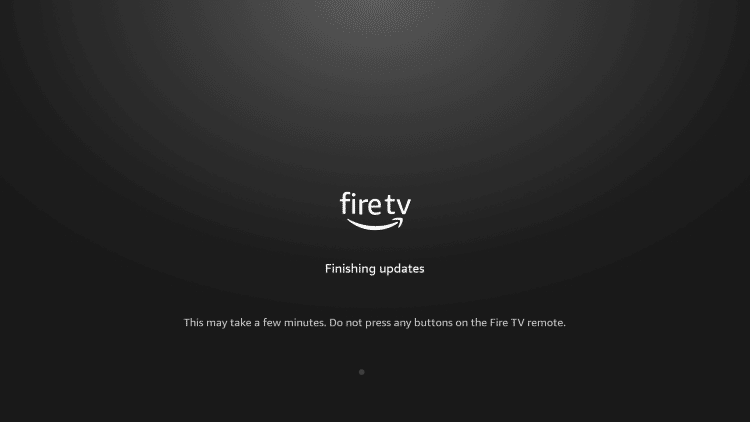 6. That's it! Your new Firestick/Fire TV is now fully updated.
If you find the device will not restart, this can easily be done by pressing the Select or middle button and the play/pause button at the same time for 5 seconds.
Users can also Reset the Firestick/Fire TV which will restore your device to factory settings.
Important: If you decide to reset your Firestick/Fire TV this will wipe your device clean and remove any Firestick Apps you previously had installed.
Refer to our Firestick setup guide below if you decide to reset your device. This will provide you with step-by-step setup instructions.
How to Setup Amazon Firestick/Fire TV
If you own an Amazon Firestick/Fire TV, we suggest installing the latest software as soon as possible!
How To Update Firestick FAQ
How do I Update my Firestick?
You can easily update Firestick to the latest software within the device settings.
Does the Firestick Update Automatically?
Yes. These changes typically occur themselves. However, sometimes we must do this manually by following this guide.
Why is My Firestick Unable to Update?
If your Firestick is unable to update it is likely already using the most recent software version.
If you wish to reset your Firestick device, you can easily do so within the My Fire TV Settings on any Firestick device.